Due Diligence 101
May 17 @ 12:00 pm

-

1:00 pm
Join ventureLAB and Caravel Law to dive into due diligence processes
ventureLAB in collaboration with Caravel Law, will be hosting a free virtual workshop.
This workshop looks at the due diligence process, for a business looking to be ready for investment, or for a business getting ready for a sale. We will look at what is due diligence from the investor and from a startup business perspective. We will also look at some tools and technologies you can use to keep your business organized for the due diligence process.
Agenda:
12:00 PM – 12:05 PM: Welcome and Introductions
12:05 PM – 12:45 PM: "Due Diligence 101" by Monica Goyal & Peter Dale, Caravel Law
12:45 PM – 1:00 PM: Discussion and Q&A.
Interested in a one-on-one meeting with Caravel Law? Register for the event to express your interest and we will work with you to coordinate a meeting.
SESSION FACILITATORS
Monica Goyal – Director of Legal Innovation, Caravel Law
Monica founded My Legal Briefcase, an innovative platform that provides efficient and democratic legal solutions for small businesses, and Aluvion Law, a flat-fee law firm that provides accessible and affordable legal solutions. Monica has a Bachelor of Applied Science from the University of Waterloo, as well as a Master of Science in Electrical Engineering from Stanford University.
She began her career working for major telecommunications companies such as Toshiba, Nokia, and Nortel, before earning her Juris Doctor degree from the University of Toronto Faculty of Law. Monica is a former Adjunct Professor and Visiting at Osgoode Hall Law School, and the Institute of Future Law Practice where she taught law and technology courses. Currently, she teaches Access to Justice and Technology with Lincoln Alexander Law School the Institute of Future Law Practice. She has been named as one of the 10 Women to Watch in Tech in the Journal of the American Bar Association and has won a 2017 Fastcase 50 Award.
Peter Dale – Corporate Lawyer & Business Advisor, Caravel Law
Peter has maintained his own business law firm for the nearly 20 years. Prior to flying solo, Peter held an in-house position with a privately held venture capital firm, Ventures North, and was also with Ernst &Young International (now Donahue Ernst & Young LLP) and Lang Michener (now McMillan). In private practice, Peter has amassed considerable experience with corporate and commercial law, lending, financing, M&A, and would often act as an out-sourced in-house/general counsel resource to his clients.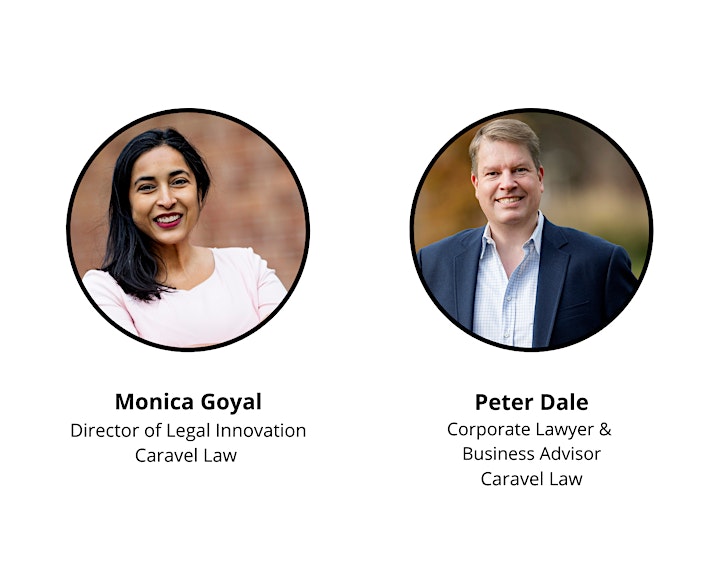 About ventureLAB
ventureLAB is a leading global founder community for hardware technology and enterprise software companies in Canada. Located at the heart of Ontario's innovation corridor in York Region, ventureLAB is part of one of the biggest and most diverse tech communities in Canada. Our initiatives focused on raising capital, talent retention, commercializing technology and IP, and customer acquisition have enabled thousands of companies to create over 4,000 jobs and raise more than $200 million in investment capital. At ventureLAB, we grow globally competitive tech titans that build-to-scale in Canada, for global markets.
Photo/Video Disclaimer
ventureLAB events are recorded for educational and marketing purposes. If you do not wish to be included in these recordings please let a ventureLAB team member know as soon as possible so that we can omit you from the recording.