You know that feeling you get when you're swimming, and you stop for a moment to float on your back? You linger there ever so briefly, but with your ears submerged in the water and your toes just barely breaching the surface, you feel totally weightless. For most children, the draw to water is intuitive, and an opportunity to spend an afternoon at the beach or a community pool is rarely passed up; but as we grow older, we find excuses to pass on these opportunities. We stop chasing after this weightless feeling, and soon forget about how healing it can be. Victoria Galletta has made it her job to re-introduce people to this feeling through her work as an aqua therapist. As a trained kinesiologist, she has supported her clients' rehabilitation through this unique practice since 2019 when she started her business Pure Movement.
Victoria grew up in Guelph and attended the University there to attain a degree in Human Kinetics. After completing her degree, she spent a few years working in an office setting, but quickly realized that she did not want to spend her life sitting behind a desk. This motivated her to pursue a postgraduate certificate in Exercise Science and Lifestyle Management at Humber College, where she was introduced to aqua therapy. She went on to complete her Kinesiology board exam and soon after took a position as a physiotherapy assistant in Collingwood. Through her work at the clinic, she came to realize that there was a need for aqua therapy in the area, as the closest practitioner was an hour away.
.
Starting a business had always been a dream of Victoria's, so she was intrigued when she learned that she could open her own practice as a kinesiologist. As a high school student, she had debated completing a degree in business instead of kinesiology, so the possibility of bringing her two passions together felt like a no brainer. She knew it would be a challenge to run her own business and the learning curve would be steep, but she followed her intuition and dove in headfirst. Victoria knew that she would need some support to get started, so when she was encouraged to go meet with the Small Business Enterprise Centre (SBEC) in Downtown Collingwood, she immediately went to their office and scheduled an appointment.
Through this first meeting, she was encouraged to apply to the Starter Company Plus Program, where she received support writing her business plan, was paired with a local business mentor, and received a grant to help start Pure Movement. They also helped her name her business. "The advisor from SBEC encouraged me to make a word wall and write down words that I loved and that represented the vision for my company. So, I did just that, and then I started putting words together until I found a combination I liked. I can't even remember the other options that I had considered. Pure Movement just felt right," explained Victoria.
Once she had a name for her business, she invited some of the local practitioners she knew to a demonstration, where she showed them how she could use aqua therapy to support their clients. Soon enough, she started receiving referrals and her business began to grow. Over the past two years, Victoria has worked with clients from a wide variety of backgrounds, each with unique challenges. Some of these have included individuals with Parkinson's disease, fibromyalgia, arthritis, balance issues, chronic pain, and even sports injuries. She has also helped many clients prepare for and recover from surgical operations, such as hip and knee replacements and other orthopedic surgeries.
Victoria noted that some clients are hesitant to try aqua therapy for the first time, but she finds that it only takes one or two sessions for them to understand how water's buoyant properties can help alleviate their pain and allow them to explore fuller ranges of motion. To illustrate this point, Victoria told a story about one of the veterans she worked with early on who had expressed extreme hesitancy about trying aqua therapy initially, but after just one session he was sold on the idea, and five sessions later decided to have his own pool installed at home!
Though Victoria spends most of her time working with clients in the pool, she also offers treatment on land, and will even travel to her clients' homes to work with them when possible. In fact, for many of her clients the explicit goal of their rehabilitation is to help take their movements from the pool to dry land, so they can feel confident and pain-free in their usual day-to-day movements.
Victoria first encountered Collingwood near the end of her postgraduate certificate when she was visiting a friend. "I wasn't able to see too much of Collingwood during my first visit, but even just driving in I thought to myself 'Wow, there's water over there and a mountain over here', and I was blown away by the area. I made the decision right away that I was going to move to Collingwood at some point," explained Victoria. Sure enough, once she had finished her degree and co-op terms, she followed her gut and moved to Collingwood permanently.
Naturally, Victoria spends a lot of time around the water and enjoys paddle boarding, fishing, and swimming. She also enjoys hiking and foraging along local trails, where she has recently found raspberries, fiddle heads, and other similar treats. Victoria is a huge believer in supporting other local businesses and will frequently partner with other small companies in Collingwood for giveaways and promotions on her social media account. She has made many connections through the Collingwood Foundry (a local co-working space) and meets on a weekly basis with other business owners for "Common Ground" meetings, where they discuss the unique challenges and experiences they share as entrepreneurs. Despite having lived in the area for under five years, Victoria has made a name for herself as both a kinesiologist and a community member in Collingwood, and she looks forward to continuing to grow her business in her new home.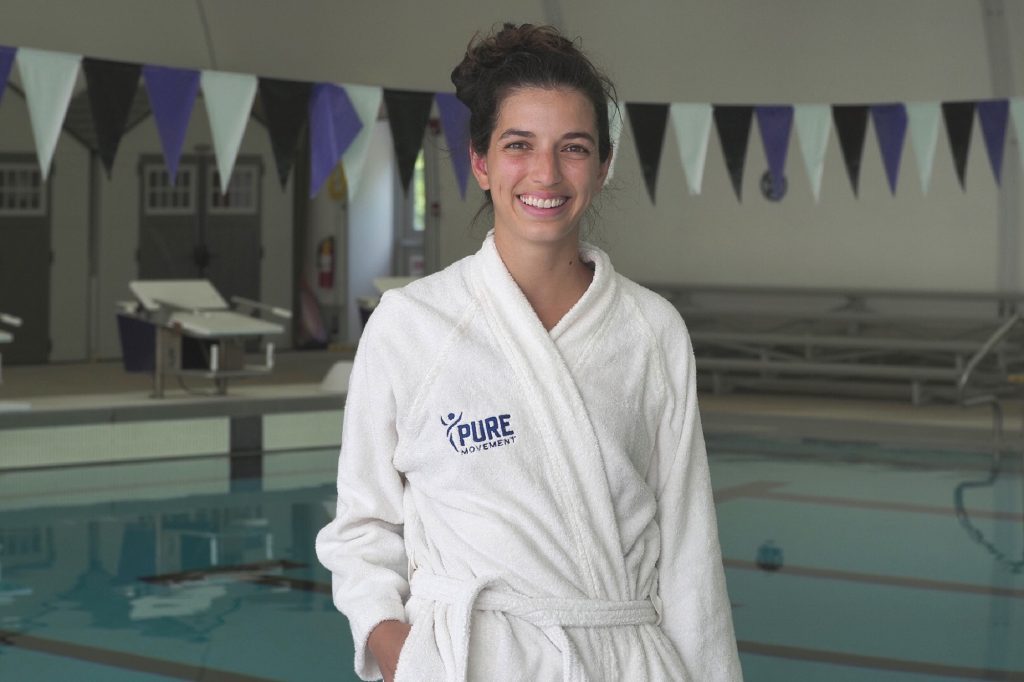 Having learned a bit about Victoria, it will come as no surprise that she has big plans for the future of Pure Movement. Though she is currently focusing on developing her own skills as an aqua therapist, she also has a plan to expand Pure Movement across the province to help support other kinesiologists who want to pursue careers in aqua therapy. "My main motivation is that I want kinesiologists to be able to provide kinesiology services. A lot of them don't know what they can do with their degree when they finish school, so they tend to go into physiotherapy assistant roles. I plan to oversee the other locations and help get referrals for people who want to try aqua therapy, which would allow them to work with clients directly without worrying about the administrative side of things" explained Victoria.
Victoria hopes that if more people learn about aqua therapy as an option for rehabilitation, it might help them get back to enjoying the activities that they love most and, above all, to enjoying movement again.
To learn more about Pure Movement or book a consultation with Victoria, visit Puremovementcollingwood.ca
Photo Credits: Dave West Photography