The VanderMarck Boutique Hotel opened its doors in May 2019 at a landmark location in downtown Collingwood. Its building was originally established in 1912 for the town doctor and onetime Mayor Joseph Arthur by renowned Toronto Architect Eden Smith at the corner of Third and Pine Street in the heart of historic Downtown.
The boutique hotel bears the maiden name of its owner Yvonne Weinstein, the lion in the hotel logo has been taken from her family crest. Ashley Martin who helped design and open the hotel is the VanderMarck's Manager she was raised in Collingwood and notes they love supporting local entrepreneurs and businesses.
The hotel has nine apartment-style suites — three studios, four 1-bedroom and two 2-bedroom suites, all of which are equipped with a kitchenette or a full kitchen. Having undergone a significant renovation prior to its opening, the VanderMarck features an outdoor common area with water features and a courtyard designed for intimate events and gatherings. The hotel interior is thoughtfully curated with a selection of beautiful photography, designer furniture and luxury products to help create the most enjoyable experiences for its guests. The VanderMarck's Scandinavian style evokes a special combination of elegance and simplicity.
The boutique hotel is a choice destination for a wide range of events from weddings and anniversaries to retreats and business meetings. The VanderMarck offers a wide variety of amenities to accommodate guests' needs. Over the three years since its opening, the hotel has become renowned for the privacy, intimacy and comfort it offers to its guests.
Services to meet and exceed guests' expectations
At the time of the VanderMarck's opening, there were limited options in Collingwood for people who preferred to stay in a smaller hotel with more privacy and intimacy. The VanderMarck sought to fill that market niche by offering a select number of suites carefully curated to meet and exceed guests' expectations.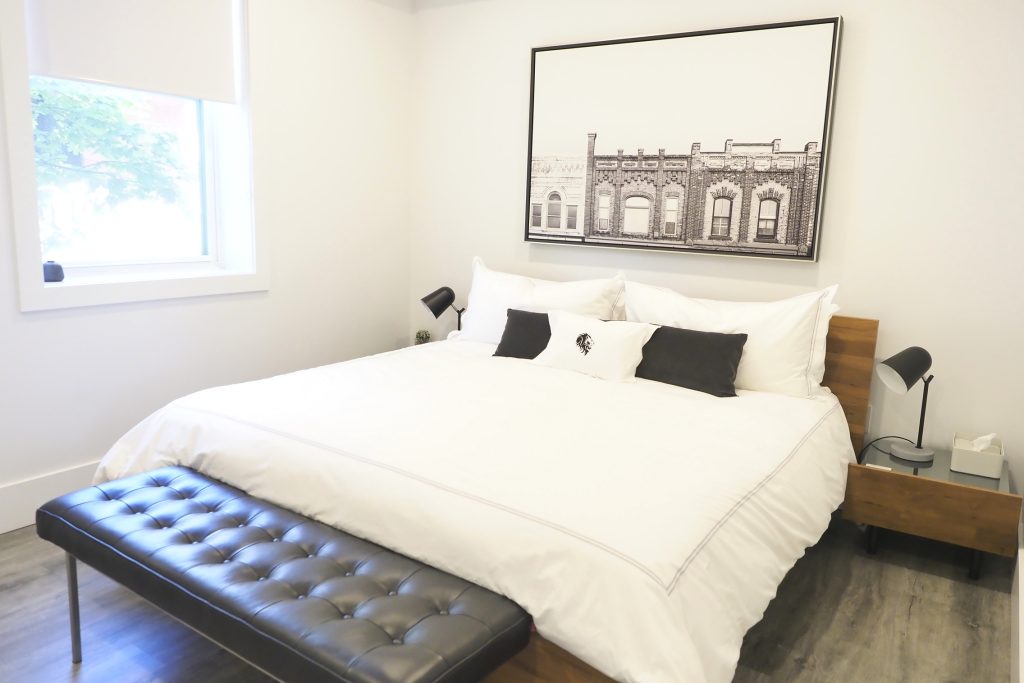 A distinctive feature of the hotel is that it is designed for maximum privacy and comfort. From booking to checking in, the entire process is completed online. Management is available by phone, email and text to assist guests prior to their arrival and during their stay. The guests arrive at the hotel's doorsteps with all the information they need to access and enjoy the space. There is complimentary parking reserved for guests, as well as high-speed Wi-Fi, Cable TV and a state-of-the-art security system in place. From electric car charging station to secure onsite gear storage for bikes and skis, the hotel features a wide variety of amenities and resources to help guests enjoy their stay.
Even though the hotel opened its doors just eight months before the COVID-19 pandemic, it has pivoted and adjusted to meet the needs of the times. Ashley notes that the contactless feature the hotel already had in place played an important role in helping it navigate the pandemic. Ashley states, "Having self-contained suites with self-check-in brings a different type of experience to our guests." While the hotel is perfect for short weekend stays, guests are encouraged to stay for longer periods to enjoy apartment style suites with spacious floor plans and the full range of amenities and benefits. The VanderMarck offers discounts for guests who choose to stay for a longer period.
Prime location in the heart of downtown Collingwood
Thanks to its downtown location, the VanderMarck is steps to Collingwood's award-winning restaurants, breweries, galleries and the art district. It's also within walking distance of grocery stores, the LCBO, as well as Collingwood's picturesque waterfront and extensive trail network. Many local attractions such as Blue Mountain, Wasaga Beach, The Bruce Trail and golf courses are only a short drive away, making it easier for guests to make the most out of their time in Collingwood.
Luxury Packages and Local Partnerships
While dining options abound in downtown Collingwood, the VanderMarck began offering its own room service in collaboration with Chef's Justin Miller and Terry Clough of Black Box early last year. Chef Justin has curated a special menu for the guests featuring a wide variety of meals and snacks for different dietary preferences. If guests order room service, they can expect a stocked kitchen with food of their choice when they arrive. While the hotel is happy to curate a list of restaurant recommendations in the area, its own room service has become popular among guests for its quality and convenience.
In addition to their room service program, The VanderMarck has also partnered with a wide range of local businesses offering luxury experiences, such as Scandinave Spa, Duntroon Highlands Golf, Cedar & Sage Wellness Centre, Vortex Wellness Studio, Collingwood Charters Tours and the Northwood Club. Ashley notes that the VanderMarck is looking forward to partnering with more local businesses and artists to make guests' experience even more enjoyable.
Opening of the Coach House
Last year the VanderMarck received funding from the Tourism Relief Fund (TRF), a government program to support the tourism sector in Canada. Ashley recalls that they first heard about the TRF from a newsletter sent by the Town's Economic Development Department. As part of the hotel's efforts to expand its offerings to the wider community, the funding has been used to renovate an old garage – Historic Coach House, previously underutilized as storage. The new space, which is simply referred to as the "The Coach House", features vaulted ceilings, full glass garage doors, kitchenette and a wheelchair-accessible washroom. The 465-square-foot space is able to host up to 25 people. "We are excited to have this new space to share with the community. We are looking forward to bringing more people to downtown Collingwood as well as offering more unique and intimate experiences for groups visiting South Georgian Bay," says Ashley.
Looking ahead
Reflecting on the changes of the past few years, Ashley notes that the hotel currently hosts a lot more in-person events compared to last year when staycations were more popular. Asked about the hotel's future goals, she responds that the VanderMarck will continue to offer guests a 5-star destination where people can come together and enjoy memorable experiences.
She also notes the hotel is seeking to build awareness and engagement with the wider community while utilizing their new Coach House space.
If you are looking for a destination to create a memorable experience, check out the VanderMarck boutique hotel at https://thevandermarck.com
For more stories like this one straight to your inbox, subscribe to our weekly Collingwood 60-Second Business Update.
Photo Credits: Dave West Photography